The Canadian Union of Public Employees (CUPE) is Canada's largest union.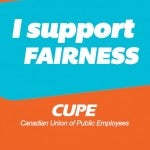 With around 618,000 members across Canada and over 25,000 members in Manitoba, CUPE represents workers in health care, education, municipalities, libraries, universities, social services, public utilities, transportation, emergency services and airlines.
Our Local is quite diverse with 27 units and over 700 members to represent, and we represent a solid voice for workers in the Social Services  Sector in Manitoba.
Cupe Local 2348 has a new Executive who is actively engaged and eager to connect with all of our members. We are looking to build solidarity, community and activism in our Local! To get involved with the Local, join one or more of our committees and share your voice: to develop and join campaigns, create and participate in events, and share your passion for your work and those who access services at your unit! Find a committee by clicking here.
CUPE 2348 represents workers in the following 27 units and workplaces: