This is your 2021 – 2022 Executive:
President:
Vivienne Ho
204-944-9408
president2348@gmail.com
Vice President:
Brandon Murdock
204-944-9408
vicepresident2348@gmail.com
Recording Secretary:
Amy McGowan
204-944-9408
secretary2348@gmail.com
Treasurer:
Amy Wang
204-944-9408
treasurer2348@gmail.com
Lead Shopsteward:
Othello Wesee
chiefshopsteward2348@gmail.com
Culture and Diversity Chair:
Shan Shan Wang
culturaldiversity2348@gmail.com
Education Chair:
Tracy Rose Laporte
Social Chair:
Omran Zahrad
healthsafety2348@gmail.com
Women's Chair:
Vacant
Health and Safety:
Vacant
Good Cheer:
Currently Recruiting!
goodcheer2348@gmail.com
Trustee:
Tammy Shone
Trustee:
Carissa Campbell Pereira
Trustee:
Megan Brisco
Contact the Local! 
Your Committees & Chairpersons:
Chief Shop Steward:
Othello Wesee
chiefshopsteward2348@gmail.com
---
Cultural Diversity Chair:
Shanshan Wang
culturaldiversity2348@gmail.com
---
Education Committee Chair:
Tracy Rose-LaPorte
education2348@gmail.com
---
Good Cheer Convener:
Currently Recruiting!
goodcheer2348@gmail.com
---
Health & Safety Committee Chair:
Omram Zahrab
healthsafety2348@gmail.com
---
Social Committee Chair:
Currently Recruiting!
social2348@gmail.com
---
Women's Committee Chair:
Amy Wang
womens2348@gmail.com
---
The Canadian Union of Public Employees (CUPE) is Canada's largest union.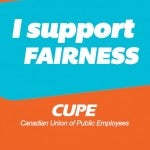 With around 618,000 members across Canada and over 25,000 members in Manitoba, CUPE represents workers in health care, education, municipalities, libraries, universities, social services, public utilities, transportation, emergency services and airlines.
Our Local is quite diverse with 27 units and over 700 members to represent, and we represent a solid voice for workers in the Social Services  Sector in Manitoba.
Cupe Local 2348 has a new Executive who is actively engaged and eager to connect with all of our members. We are looking to build solidarity, community and activism in our Local! To get involved with the Local, join one or more of our committees and share your voice: to develop and join campaigns, create and participate in events, and share your passion for your work and those who access services at your unit! Find a committee by clicking here.
CUPE 2348 represents workers in the following 27 units and workplaces: